Nichi-in Software Solutions (P) Ltd.
Claim this page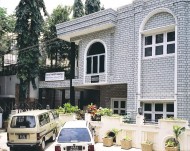 Nichi-In specializes in software design and development. We have NDR Co., Ltd., Osaka, Japan as our partner. An 100% EOU, Nichi-In is registered with Software Technology Parks of India. (An autonomous body under the Dept. of Electronics, Govt. of India). In addition to native English language communication skills, we are 100% proficient in the Japanese language and are very familiar with the Japanese business model.
Several projects have been entrusted to us. We have been selected repeatedly by our customers because of our proven software development, quality assurance methodologies and testing expertise. Our proven track record backed by several years of successful business relationships with leading Japanese companies assures your project's success. By providing high-quality software, within your budget and time schedule, your entire software development cycle can be optimized for cost and performance.
Services:
Application software design and development
Client/server application software development using Object-Oriented methodologies
Localization and porting of software applications from/to the Japanese language
Real-time systems such as data acquisition systems, device-monitoring systems such as CNC machines and sensors, involving Serial/Socket com
Design and development of Internet/Intranet based software applications
Web enabling of existing applications
Speech recognition and text-to-speech synthesis
Design and development of Device drivers
Software re-engineering
Technical translation
Nichi-in Software Solutions (P) Ltd.
' also may find interest in followings . . .

Graficasoft has carved a place in the world of software development market. It is a technically advanced organization specializing in the field of software development by using...
(a) Private software technology parks Units having own site measuring 5000 to 10000 sq. ft./ in good locality who propose to set up software technology parks for the purpose of on...

Innominds Software is a leading Outsourced Software Product Engineering Services company which provides dedicated engineering teams at global delivery centers that act as virtual...

STPI BANGALORE has a wealth of expertise in executing multi-site maintenance and development projects for customers. STPI has executed an offshore software development project...

The name JIREH is a Hebrew word which means "See and Provide". We at Jireh are a young resourceful team with innovative ideas and an ambition to "provide" the best services in the...

I-Link is a client focused CMMI Level 3 Software Services Company established in 1996. Its motto is employing Innovative People and delivering Quality Solutions to our business...
Around the globe, Novell is synonymous with leadership in building enterprise-class solutions and in providing premium support for proprietary and open source software. With a...
Category:
Submit your company info here.