Vivus Health Centre
Claim this page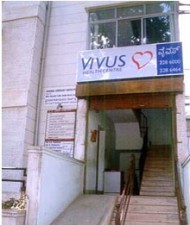 Vivus Health Center previously known as Srinivasa Diagnostic Center offers healthcare packages to suit the needs of individuals of various types. Individuals and doctors can choose from a range of test combinations available to detect health problems. In case of an emergency and also upon request by the referring doctor, reports are processed at the earliest.
Vivus Health Center offers different packages to all categories of people starting from children, adult males and females, people with history of diabetes or heart problems and also offers suitable evening hours for working people.
The Health Center offers all procedures and tests related to Health Check ups and specifically Cardiac Care.
Some of the packages offered are:
Master health check-up
Comprehensive cardiac check-up
Hematology and clinical pathology procedure
Clinical Bio-chemistry
Lifestyle Screening
Cardiology and Radiology Investigations
Immunohaematology.
Vivus Health Centre
' also may find interest in followings . . .
Aditya Health Care is a Health & Wellness, Health Clubs & Gyms Service provider in Jayanagar, Bengaluru.
Academy of Mental Health And Mind Development is a Health Care Center in Rajaji Nagar, Bangalore.
A health club can be invaluable in helping you maintain a regular aerobic and strength training program. But a health club membership can also turn expensive if you aren't careful...

Leo Home Health Services Offers Nursing Care Services At Your Doorstep From Qualified Registered Nurses Services Offered Nursing staff for 24*7 Male and Female, Injections IM, IV...

SBF Health Care in Bangalore and Mumbai, India, provides treatment for Arthritis (Osteoarthritis and Rheumatoid Arthritis) and palliative care for Cancer patients with SPMF...
How can we Combat Mental Illness ourselves? These Tips Can Help: Be communicative. Express your feelings in a non-threatening, non-combative way to significant people...
Mobile Telephones and Their Base Stations: Mobile telephones, sometimes called cellular phones or handies, are now an integral part of modern telecommunications. In some parts of...
Category:
Submit your company info here.