Kalamayi Wellness Center-Physiotherapy
Claim this page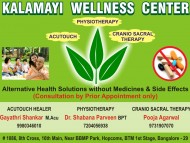 We provide complete & permanent relief only thru Physiotherapy for the following problems:
* Neck pain / Shoulder pain / Back pain / Knee pain / Foot pain / Post fracture mobilization / Core muscle strengthening etc.,
* Disc prolapsed / Spondylolisthesis / Dislocation & Subluxation of joints / Torn meniscus etc.,
* Ligament strain / ligament tear etc.,
* Sciatica / Brachial neuralgia etc.,
* Infertility / Irregular menses / Painful menses / White discharge / Polycystic ovary / Cervix / Uterus etc.,
Note: Consultation by prior appointment only
Shabana Parveen BPT.,
(Consultant Physiotherapist)
Kalamayi Wellness Center
1086, 8th Cross, 16th Main, BTM 1st Stage, Bangalore – 29
Landmark: BBMP Park HOPCOMS
Kalamayi Wellness Center-Physiotherapy
' also may find interest in followings . . .

At Reliv Pain Center your pain will be managed by highly qualified physicians formally trained abroad in this upcoming discipline of medicine using state of the art medical...
Heel pain is the most common complaint. Some of the causes are arthritis, tendinitis, bursitis, heel spurs, and plantar fasciitis. Also exercising too hard, wearing the...

To ease toothache or other mouth pain, make a tea by boiling 5g of fresh peppermint in 1 Cup of water and adding a little salt. Peppermint is an antiseptic and contains menthol,...
If you sit in front of a computer screen all day, make sure to sit up straight and keep your feet slightly raised off the floor on a footstool or other low object. Don't sit...

A complete pain management clinic for all ages. Services offered: Evidence Based Physiotherapy Spine Care (Neck/Lower Back) Sports Massage Pregnancy Care Strains/Sprains Joint...
A sprain is the wrenching or tearing of the ligaments and tissues round a joint. A strain is the overstretching of a muscle. This is invariably associated with some tearing of...
A Strain is the overstreatching of muscle. This is invariably associated with some tearing of muscle fibers. There is a sudden, sharp pain at the site of injury. In the case of a...
Category:
Submit your company info here.