Bhagwaan Healthcare Centre - Deaddiction & Pain Management Centre
Claim this page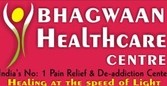 We have worlds most advanced Cold Laser Therapy & Biofeedback Equipment's along with renowned Psychiatrists, trained from NIMHANS for treating Addiction of any type. we also train in developing Positive Life Skills by Life Skill Trainers through Counseling the patients to change their lifestyles.
The Advanced Cold Laser Therapy have NO Side Effects, Non Invasive, No Medicines Involved, Fast Action & US-FDA Approval.
Bhagwaan Healthcare Centre - Deaddiction & Pain Management Centre
' also may find interest in followings . . .

New Look Laser Clinic is a specialized clinic and is also a part of south Asia's largest chain of Laser clinic. It has started several revolutionary cosmetic laser surgery...
World's Most Advanced, Tested & Proved Cold Laser Technology! First Time in India! India's No. 1 Pain relief & Quit addiction Laser Cafe. Laser therapy-Healing at the...

At Reliv Pain Center your pain will be managed by highly qualified physicians formally trained abroad in this upcoming discipline of medicine using state of the art medical...
Advanced Micronic Devices Ltd. (AMDL), incorporated in 1982 went public in 1994. The company's stocks are currently listed in Mumbai and Bangalore stock exchanges. The company was...
CHERISH, an infertility treatment center at Bangalore, India, has been started with a vision to overcome infertility among men and women and thus bestow couples with the joys of...
Karnataka Cleaner Production Centre (KCPC) has been established as the first regional center in the country, as a part of the initiative taken by National Cleaner Production...
Surakshaa Car Care Centre is a Maruti-Suzuki Motor Car Service Centre in Electronic City, Bangalore.
Category:
Submit your company info here.