Super Service Station
Claim this page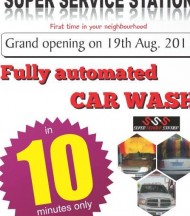 Fully automated car Wash Services at Super Service Station
Mobiles Tyre Tech:
Biggest Tyre Showroom in Bangalore
Computerized Wheel Aligning
Computerized Wheel Balancing
Run-flat Trye Changer
Automatic Tyre Changer
Nitrogen Air Filling
Head Lamp Focusing
Car Detailing
Boutique Wash & Wax
Timings: 8.00am to 8.00pm (All Days)
Super Service Station
' also may find interest in followings . . .
TOY STATION is a unit of Banashankari Super Bazaar located at #7,Sri Renuka Arcade, Arekere Main Road in Bangalore offers its customers domestic and imported toys.

Exclusive Hi-tech Maruti Authorized Service Station on Kalyan Nagar Ring Road. All Free Services Paid Service and Major Repairs Computerized Wheel Alignment and Balancing Engine...
*Sthiti: Lie supine on the ground with legs together and arms along with the body. Take the hands back; place the palms on the ground and above the shoulders on either side...

Smile Station is a leading dental clinic located in Indiranagar, Bangalore. It is the place of top specialist dentistry team who take special care for patients cure and care....
Stand in Sthiti Position. Support the back at the waist by the palms. Exhale. Bend backwards from the lumbar region. Head bends backwards, stretching the muscles of the neck....
Business and Services: Department Stores

ELITE CAR CARE - MEGUIAR'S FIRST AUTHORISED OUTLET in Karnataka is bringing Bangalore one of the finest detailing services directly from Meguiar's to you, to be the owner and to...
Category:
Submit your company info here.