Lifestyle International (P). Ltd
Claim this page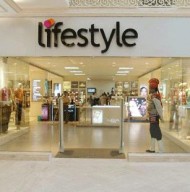 Lifestyle International (P) Ltd is part of the Landmark Group, a Dubai - based retail chain. Lifestyle, positioned as a trendy, youthful and vibrant brand that offers customers a wide variety of merchandise at an exceptional value for money, began operations in India in 1999, You can find there apparel, baby shop, home Center, shoe mart, life style accessories and more. Each Lifestyle store brings together five concepts under one roof – Apparel, Footwear, Children Wear & Toys, Household & Furniture and Health & Beauty; offering a convenient one-stop shop and a choice of over 350 national & international brands.
Home Center by Lifestyle is a one stop destination for furniture, home decor and soft furnishing that truly represents style, comfort and individuality.The stores use unique 'concept' rooms as the display model, to give consumers a practical idea of how each piece of furniture would look in a particular room.
Lifestyle International (P). Ltd
' also may find interest in followings . . .

With an old world charm serving as the ambience and a myriad of international, national fashion brands and collectibles housed under the same roof, Sanctuary is the perfect...

Style Spa is backed by one of South Asia's largest factories specializing in producing panel based furniture. Every piece of Style Spa furniture is built to exacting technical...

Outdoor furniture maker Patio offers an array of furniture and accessories like pergolas, gazebos, planters, hammocks, barbeques and exterior wall claddings. Created to endure all...

Add the International Luxury Touch to your Home Interiors. A luxurious expanse dedicated to meet all the interior needs of a stylish home, Opulence located at HSR layout is a 3...

Maharaja Furnitre creates an intimate atmosphere emphasizing relaxed formality—a reflection of the client's lifestyle & Personality. The Furnitre in our production follows...
This two-story store shopping mall is situated on the Victoria Road . This is a new shopping mall in Bangalore and has already won the hearts of the citizens. The shops of the...

What started as a hobby and collector for the past 40 years, turned into my business. The most interesting thing about Classic furniture and curios is the rich history that it...
Submit your company info here.