Fabindia
Claim this page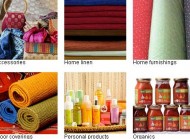 A lesser known fact is that it that this popular apparel and furnishings brand stocks several types of cereals, grains, pulses, spices, sugar, tea, coffee, honey, fruit preserves and herbs, classified under three categories.
Also at:
Hebbal Magrath Road, Bangalore
Phone: 080-32922335
Indiranagar, Bangalore
Phone: 080-32962101
Jayanagar, Bangalore
Phone: 080-321971973
Koramangala, Bangalore
Phone: 080-25520004
Whitefield, Bangalore
Phone: 080-32966131
Fabindia
' also may find interest in followings . . .

A chain that stocks a great variety of breads including whole wheat, multigrain, garlic and muesli. Also has muffins, sandwiches and salads. Also at: Banerghatta Road, Bangalore...

Funky when it started out, this has become just another chain of coffee shops; the blaring music could be an irritant for some, though others swear by the cappuccino. A few of the...

Favorite Shop is one of the most popular garment stores known from its readymade garments for men, women & kids in serving with 5 store locations in Bangalore. Also at:...
Listed below are the pin / zip codes of the Bangalore City: Adugodi 560 030 Agaram 560 007 Air Force Stn. Yelahanka 560 063 Arabic College 560 045...
Get affordable and advanced dental treatment from best dentists in IntraNagar Bangalore.We have professional and qualified dentists to provide world class dental services. If you...

The Bangalore Development Authority came into existence in 1976 as a successor to the erstwhile City Improvement Trust Board. Development of Bangalore in a planned manner,...
The Indian Institute of Management Bangalore (IIMB) was established in 1973 to offer management courses in the proposed institute at Bangalore to bright young people, who were...
Submit your company info here.