Hard Rock Cafe Bengaluru
Claim this page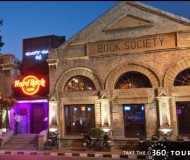 Hard Rock Cafe is premier dining and entertainment destination, the 9000 square foot cafe consists of three distinct sections, including a 100-seat restaurant, a bar area with more than 120 seats and an open courtyard, as well as Hard Rock's signature retail Rock Shop.
Housed in an ancient and beautiful stone structure, HRC is similar to those in its ilk: thum ping music, rock music paraphernalia on the walls, sleek seating and yuppie American food with a nodding acknowledgment of local palette in the form of curry and wraps.
Hours:
Restaurant
Mon - Sun 12:00 PM - 11.30 PM
Bar
Mon - Sun: 12:00 PM - 11.30 PM
Merchandise
Mon - Sun: 12:00 PM - 11.30 PM
Hard Rock Cafe Bengaluru
' also may find interest in followings . . .
Adark and rather boring looking watering hole more than anything else, serious foodies prefer lunch time when the emphasis is less on the drink. Don't miss the pom fret fry,...
Somewhere...music is a belief! That was the "belief' of three young IT professionals (Sunil, Varun and Ram) in our neighborhood to launch a 'platform' for budding musicians and...

"Shopping, entertainment, food", is Phoenix Market City's famous tagline that says it all. Spanning across a one and a half million square feet area, Phoenix is the largest mall...

Sidewalk Cafe is a Part of the newly opened five star Hotel - The Paul belongs to the Group of Kumarakom Lake Resort. Designed to look like a European street cafe, the high...

Warm ambience, cool music, laughter, smiles. Whether you a professional nomad who want to work in peace with your laptop, want to spend some time with your loved ones or need to...

The easy charm and classic comfort dishes (from both East & West) make Café Mozaic a lively scene, even at the oddest hour. The look is chic, the vibe informal. Splashes of...
Type of Food Available at Brooks Cafe: Multi-Cuisine Timings: 24 hours
Category:
Submit your company info here.