Blue Valley Service Apartments
Claim this page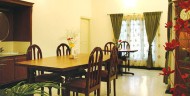 Blue Valley's Service Apartments are professionally managed guest houses, situated in seven strategic locations in the city, and available at affordable rates making each apartment an ideal place for professionals and others.
Each apartment is carefully planned with the guest's needs in mind. Blue Valley has walked the second mile to professionally nurture the surrounding environments of all their properties and Blue Valley's Service Apartments are no exception.
It's the finest of fine arts – the art of transforming an apartment into a home. The Blue Valley service apartments offer attractive financial savings, increased flexibility and privacy over traditional hotel accommodation. Every effort is made to help a guest settle in with minimum inconvenience, to ensure the residents enjoy a trouble free stay.
Facilities:
Luxury served accommodation is today's stylist alternative to booking into a hotel. The primary reason behind Blue Valley Apartments being the most sought after by guests are due to its comprehensive facilities that are made available round the clock, to its guests. For less cost our apartments offer you more. The facilities available at Blue Valley Apartments include well furnished deluxe rooms, AC and non-AC rooms with attached bathrooms.
24 Hours hot and cold water
Multichannel TV with cable facility
Swimming Pool
Snooker Table
Blue Valley Service Apartments
' also may find interest in followings . . .

Mels Serviced Apartments is the latest landmark in Bangalore`s Budget Serviced Apartments / Homestay/ Hotel Apartments. MEL'S Serviced Apartments / Homestay / Hotel Apartments in...

D'Habitat Service Apartments Koramangala, Bangalore offers Deluxe 1 bedroom serviced apartments and 2 bedroom service apartments. Our elegantly furnished Luxury service apartments...

Mathyoo Residential Apartments is a collection of premium apartments which serves as an alternative for traditional hotels with all luxuries and comforts. These apartments with...

Alcove service apartments in Bangalore are in the business of providing comfortable and affordable living standard for business executive and tourists. We offers luxury and...

Service Apartments in Bangalore – Mels Service Apartments located in Bangalore offers service apartments in Bangalore, luxurious accommodation with comprehensive services and...
City Central Service Apartments offers fully furnished, equipped apartment and executive home which are ready to move into. Serviced apartment is created and designed specifically...

Alcove offers luxurious & economical service apartments/ hotels in cities of Bangalore, Chennai, Hyderabad, Pune & Coorg, India. We offer a luxurious ambience with world-...
Category:
Submit your company info here.