Lumiere Organic Restaurant
Claim this page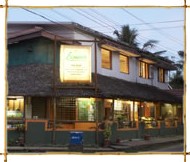 If eating your way to good health could be a literal saying, it would be true at Lumiere - an organic restaurant that maintains it own organic farms, bakeries and store to share the goodness. Going green is not just reflected in their cheerful olive decor, but behind the scenes as well. The menu centres on cuisine, specializing in coastal fare from Travancore, Malabar, Mangalore and Chettinad which means non-vegetarians can rejoice! Lumiere boasts of its own organic poultry farms and their seafood is sourced from the deep blue sea. The organic initiatives that Lumiere goes through is nothing short of noteworthy - right from the rice sourced in Palghat, to the basmati rice coming all the way from Himachal Pradesh. From organic oil, spices and legumes, even the dairy products come from their own cattle farms which makes that home-made custard all the more rich and creamy.
As you visit '
Lumiere Organic Restaurant
' also may find interest in followings . . .
Maya Organic Support Services is a Non Profit Company. MO assists artisans and worker co-operatives to develop and market high quality products and services. Maya Organic works...

Bangalore, July 21, 2014: SoulTree, India's leading and the highest quality BDIH certified Organic Beauty & Personal Care Products is now set to welcome consumers of natural...

Kubay is a homely restaurant serving coastal cuisine at mouth watering prices. We are located in the heart of Koramangala, Bangalore. Kubay is a very well known restaurant serving...
Rice is the staple diet of the world population. Also consumed widely in India, rice is perceived not to be medically conductive for people suffering from hyperglycemia – commonly...
The dim lighting and old-style decor might be a put off, but foodies who love coastal swear by it, especially the prawn and fish fry, fish curry rice and rice dishes. Average meal...

Treat your palate to the refreshingly different! Come revel in a restaurant that brings traditional principles of cooking to life. With handpicked ingredients, select herbs and...

Bangalore has got problems; we have traffic problems, a growing population problem and a garbage problem that has ripped the seams and is seeping out into our streets and...
Category:
Submit your company info here.