RAJESH EXPORTS LIMITED
Claim this page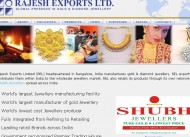 Rajesh Exports Limited (REL) headquartered in Bangalore, India manufactures gold & diamond jewellery. REL exports its products world wide and distributes them within India to the wholesale jewellery market. REL also retails its products through its own network of retail jewellery showrooms Shubh Jewellers spread across India.
World's largest Jewellery manufacturing facility
World's largest manufacturer of gold Jewellery
World's lowest cost Jewellery producer
Fully integrated from Refining to Retailing
Leading retail Brands across India
Government recogonised Premier Trading House
India's largest exporter of gold jewellery
No 1 Investor Friendly Company in India
India's Second Fastest Growing Company
As you visit '
RAJESH EXPORTS LIMITED
' also may find interest in followings . . .

Experience our innovative designer jewellery at our exclusive boutique. Expect the best as we are not just a jeweler but also certified gemologists. Diamonds get an outstanding...

Kushal's is a Bangalore based leading retailer and exporting organization in the field of "Fashion Jewelry". It is an organized, family owned business under the leadership of...

5500 square feet museum of diamonds, gold and platinum jewellery! Neelkanth's showroom on richmond road is one of the largest and most opulent in Bangalore. Diamond Studded...

Beautifully Crafted Masterpieces of Ethnic, Diamond, Victorian Jewellery & Ethnic Silverware. NS Jewells brings to you a plethora of glamorous master-pieces to ornate yourself...
Jewellery Shop Original Baby Prakash Diamonds specially re-known for its Diamond Jewellery located in Avenue Road, Bangalore.

A quaint space nestled in the charming heritage bungalow of The Hatworks Boulevard on Cunningham road, The Bombay Attic is a one of a kind multi-designer boutique showcasing an...
Pratham Jewellers is a Manufacturers and Exporters of Silverware, Jewellery, Corporate Gifts and Customized Gifts.
Category:
Submit your company info here.